I remember being a little girl playing pretend, imagining how my life would unfold. "What do you want to be when you grow up?" my parents would always ask. "A Mommy," I would reply. "And maybe a Judge."
I saw my life as having two distinct, separate parts. I would be a Judge and I would be a Mommy. There was no need to choose between the two, because there was a time and a place for both.
As I applied for college, chose a major and planned for a career, the thought of how my career would conflict with my number one goal of adulthood -- Motherhood -- never even crossed my mind. I had a vision of becoming a successful attorney, walking around in a sharp Ann Taylor suit, carrying a Coach briefcase and matching accessories into the courtroom. I pictured myself making passionate and persuasive arguments about social issues that mattered most.
I would come home on holiday vacations proud of my scholastic accomplishments, eager to tell Bubbe and Zayda about my future career opportunities. I persevered through political science classes, student government meetings and debate tournaments with all the fervor and dedication expected of a young woman destined for success in the male dominated world of law and politics.
It never dawned on me that the two visions were truly mutually exclusive.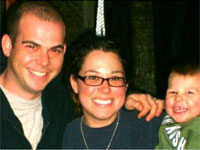 And at the same time, I was settling down with my college sweetheart. I looked forward to the day we would be husband and wife in a big house in the suburbs surrounded by the pitter patter of little feet, active in the shul down the road. Just as I had pictured myself controlling the courtroom in my suit, I envisioned myself spending a Tuesday with a baby on one hip, a diaper bag on the other, pushing a stroller through the park as I would meet my mom for lunch on my way from Hadassah in the morning as we got ready for toddler swim classes in the afternoon. I would have dinner waiting for my husband each night, learn to play tennis once the kids were in grade school, and be room parent at the day school.
It never dawned on me that the two visions were truly mutually exclusive. I remember law school orientation, when a middle aged career woman looked out at us and gave us ladies in the lecture hall a nondescript warning: "Yes, you can have it all, but you can never have it all at once." The phrase haunted me. Like a riddle, I simply couldn't quite figure out. But for the most part, I ignored it. I persevered through law school, fully aware that my number one goal in life was to be a Mom, and completely ignorant to how my academic actions were often in contrast to this goal.
THE STRUGGLE FOR BALANCE
At 27, I have achieved both goals. I am a mother to the sweetest, most precious little boy on earth. My 16-month-old son, Mason, is truly my crowning achievement. He is a mensch, he is a wonder, he fills my heart with love and laughter each and every day. I am also a wife to the most wonderful husband, Ben, and we are celebrating our fourth wedding anniversary this year. We share a beautiful four-bedroom home in the suburbs, complete with two dogs, and the pitter patter of little feet fill our halls every precious day. We make a point of having Shabbos dinner together and we send Mason to the Synagogue daycare.
And I am also a successful attorney, currently an Assistant State Attorney prosecuting crimes against families while dressed in my Ann Taylor suit and stilettos, feeling a sense of power and gratification as I put away sex offenders and protect children from abuse.
But somewhere between getting my degree and where I stand today, something finally clicked. By having it all, I was left with a longing so difficult to express, but so easy to feel. Motherhood, in its rawest, most natural form, was and continues to be calling. Being with my child, comforting my child, fulfilling his every need was what I have and continue to yearn to do. At the same time, I know my work is an important part of what makes me, well, me. I love the courtroom, the feel of being powerful against ills in society. But I constantly struggle to find ways to maximize my time in the courtroom while not sacrificing my time at the park. I stress over the effects my work will have on my child, knowing the effects being a mother has on my job.
As proud as they are at my becoming a lawyer, I sense how they wish I were home with my son.
I am approaching my ten-year high school reunion. I am excited for my peers to meet my amazing husband and adorable son. I will tell them with pride about dangerous people I keep off the street and I will subtly brag about the flexibility my job provides. But in the back of my mind, I will admire and envy the friends who instead followed a path that allows for toddler swim classes, choosing a lifestyle that makes Motherhood their career, 100%.
As a product of a stay-at-home mom, I am all too aware of the feelings my "working mom" status invokes in my extended family. The belief that I should be home with my son can be heard between the lines when I fill in my grandparents and extended family on my day to day life. As much as they pushed me to succeed in school, and as proud as they are at my becoming a lawyer, I sense how they wish I were home with Mason, believing my place is at home with my child. As proud as they are of my accomplishments, all too often I hear a tone of pity in their voice.
My life is a blessing in every possible way. I love my career. I am proud of what I am privileged to do each day at work. And I love my family. My husband and son are the most important parts of my life, and every day I thank God for them. But I live being pulled in two drastically different directions, and I am only beginning to find my way at centering myself down one cohesive path.
I may not be able to have it all at once. But maybe that's not really the point. The real struggle is finding a balance at my core. And in the stillness of my day, after my son is asleep, the laundry is folded and my freshly dry cleaned suit is ready for the next day, I know this balance I strive for does exists, if I simply allow it to be.