Yoram Raanan's studio is a playground. It's the size of a basketball court, with hundreds of paintings, in various stages of completion, dotting the landscape -- on the walls, on easels, and scattered all over the floor. This is where he creates some of the Jewish world's most prized works of art.
Originally from New Jersey, Raanan grew up in a traditional, but not strictly observant home. He drifted from Judaism for a while and then, while on a worldwide trip, he ended up in Israel and was brought to Aish HaTorah in Jerusalem. "I spent a week there and heard ideas that resonated with me deeply," he says. "But it was too intense. So I went down to the Sinai desert and spent two weeks processing everything that I'd heard. At that point I was ready to come back to Jerusalem and start taking Torah seriously."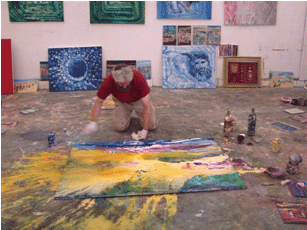 Since then, Raanan has fused Torah and art in a dazzling display of colors that reveal a brilliant inner fire peeking from behind the many layers of paint. He works mostly on the floor, kneeling or leaning over the canvas. He rarely uses brushes -- rather his fingers, hands, and an assortment of paint knives and rags to drive the paint around the canvas.
And the results are stunning. As one critic described his work: "The iridescent veil opens to reveal the most elaborate concept, suggestive of an actual physical space and highly abstract, the detailed filled scene appears like a celestial palace."
Raanan's works can be found in collections and galleries around the world. A Raanan original sells for a lofty price; for the rest of us, there are high quality fine art prints.
Raanan's studio and home is located in Beit Meir, a picturesque moshav, 20 minutes west of Jerusalem. It is there that he spends almost all his time -- painting, praying, raising a family, and enjoying his main diversion: gardening. On the land surrounding his studio, Raanan dug in with his own two hands and built a sprawling landscape of waterfalls, caves, winding paths and observation points.
Aish.com met with Raanan at his studio. Here, in his own words, he describes some of his favorite work.
Click here to launch slideshow