Combine SARS, pandemic flue, and a page of Gemara (rabbinical exegeses) and what do you get? For some it would be a lethal combination, but for Dr. Brian Schwartz, it's all in a day's work. As director of the Sunnybrook Osler Centre for Prehospital Care at Sunnybrook Health Sciences Centre, Schwartz is the man responsible for ensuring that Toronto's 900 paramedics, 2,200 firefighters, and 80 emergency medical dispatchers are properly trained in all medical procedures. He oversees a team of 20 medical directors and staff who conduct extensive research on medical procedures, sometimes finding themselves accompanying the city's Emergency Medical Services (EMS) staff into homes, onto street corners, and into ambulances to make sure patients are getting the best care possible when they call for help.
"As you can imagine, inserting a tube into someone's throat so he can breathe is much more difficult on the floor of a mall's food court than it is in a hospital, especially given the poor lighting and the masses of people standing nearby watching the show," says Schwartz. "With more than 180,000 patients -- or 450 a day -- being transported to hospitals every year in Toronto and the nearby Peel region, it's important that we test every possible scenario to make sure our procedures work every time."
Schwartz, 55, is also Scientific Advisor to the Ontario Ministry of Health and Long-Term Care's Emergency Management Unit. He's one of the key people provincial officials look to for advice on how to prepare for potential medical disasters and health emergencies such as a chemical spill, a building collapse, or pandemic influenza. He's a member of the Steering Committee for the province's recently released Ontario Health Plan for an Influenza Pandemic that launched a public flu campaign in the fall. And, currently, he's in the midst of a three-year project that will train thousands of Ontario medical professionals on how to respond to mass casualty events.
"People know who I am and what I'm about by what I wear on my head and what I eat."
As if that's not enough to fill a day, Schwartz still works as an emergency room physician at Sunnybrook and lectures to students at his alma mater, the University of Toronto's medical school. His mind is always turning as he tries to resolve health care's most pressing issues, including emergency room overcrowding (he authored a report for the Ministry of Health in 2005), as well as transforming medical transportation systems in Toronto and across the province so patients can be treated in facilities that specialize in their specific illness.
Yet perhaps what's so remarkable about such a public person is that Schwartz has accomplished all this while wearing a kippah.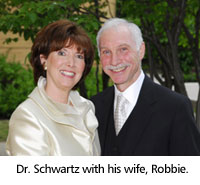 "People know who I am and what I'm about by what I wear on my head and what I eat," says Schwartz, who grew up in a Toronto home and attended supplementary Jewish school several times a week. "What I do is formed by my own sense of being Jewish -- giving to the Jewish community and working on behalf of the community at large. My Jewishness reminds me that I have to watch what I say and what I do because it also reflects on how people perceive where I come from. It reflects on how they view my reputation as a competent physician and a policy maker but also as an individual, as a human being."
It's this commitment to both his profession and his faith that has earned him the respect of everyone whose life he touches. Bruce Farr, chief and general manager of Toronto's Emergency Medical Services, has also seen the kippahtoting doctor in action and he's consistent impressed with Schwartz's compassion and leadership. Once a month, the two hop on an ambulance and ride alongside the paramedics to survey the scene -- the chief to interact with his staff, and Schwartz to ensure medical procedures are being carried out correctly.
"During a call, Brian has this ability to stand back and observe," says Chief Farr. "Then later, when the call is over, he'll take these young, energetic, and enthusiastic paramedics aside and sit down with them and review what they've just been through. If the paramedics have done everything to save the patient's life and they've used their knowledge and all the tools of the trade and the outcome comes out positive, Brian has one kind of discussion with them. If the patient doesn't survive, Brian takes a different approach. He'll take the time to consider the paramedics' personal feelings -- who they are, what they did, was there a child involved, do they have children of their own. He's very compassionate in his approach to that kind of debriefing. To have our medical leader have those abilities … well, let's just say the paramedics really respect that."
Chief Farr also credits his colleague with leading the city's community medicine initiatives, enabling more patients to be treated at home rather than being transported to a crowded hospital.
During the recent Israel-Hezbollah war, Schwartz was on hand at train stations and airports -- his head covered, of course -- to attend to the medical and social needs of Lebanese Canadians brought back to Ontario by the federal government.
"At no point did Brian come across as doing anything less than could be done," recalls Allison Stuart, Director of Emergency Management for the Ontario Ministry of Health and Long-Term Care. "He was a role model, and that was a good lesson to us all so far as we may be in situations where they're not totally consistent with what we're thinking. I really don't know what Brian was thinking because he doesn't let his personal feelings interfere with his work, but even so you just do what's best for the people. That's so Brian."
* * *
One of Schwartz's biggest claims to fame was the significant role he played during Toronto's Severe Acute Respiratory Syndrome (SARS) outbreak in the spring of 2003. The disease, attributed to a previously unknown virus that causes severe pneumonia through close contact, was first recognized in a woman returning to Toronto from a trip to Hong Kong. Over the next few weeks, SARS infected more than 250 people across the Greater Toronto Area, with health care workers affected more than any other group. At the height of the crisis, hospitals closed their doors and some people were seen wearing masks on streets, in stores, and on public transit. The World Health Organization even issued a travel advisory to the city.
To combat the hysteria, Schwartz sprung into action. His job during this difficult time was to ensure that doctors, nurses, and paramedics had the right training to treat people and contain the crisis. He was the co-chair of a group of scientists that advised the Ontario Ministry of Health and he served as a media spokesperson.
"During SARS, Brian appeared calm even when calm was the last thing on anybody's mind, which was every useful in terms of keeping the energy level at the right spot," recalls Stuart. "He would listen and apply thoughtful scrutiny to everybody's perspectives and ideas. He has this generosity of spirit, an inclusivity in terms of how he thinks and how he works to ensure that not only is he part of the team but that everyone around him is part of the team, too."
His commitment to the SARS crisis also landed him in quarantine -- twice.
He was also there when the Rolling Stones, AC/DC, and host of other musicians came to town to boost the city's post-SARS spirits and win back tourists. The concert, dubbed SARSstock, attracted about 600,000 people to Toronto's Downsview Park. Schwartz worked with a team that set up an on-site medical center in the park's airport hangar, and supervised about 20 field paramedics who treated 2,000 patients throughout the day.
His commitment to the SARS crisis also landed him in quarantine -- twice. The first time, Schwartz came into contact with a paramedic who had been treating a SARS patient and he was confined to the house for three days. The second time, though, it was right before Passover and he had to stay home for 10 days. It might have inconvenienced him, but he felt worse for his family, which he described as the most important part of his life. He and his wife, Montreal-born Robbie, a marriage and family therapist, have been married for 28 years and have four children.
"If you're a firefighter or a policeman, you know there's some danger to your job," he says. "But when you're in health care, the thought of bringing home a disease doesn't really cross your mind. When I was quarantined, I had to wear a mask if I was in the same room as my wife and kids. I had to sleep in the spare bedroom. We couldn't have visitors, and my wife couldn't get anybody in to help clean for Pesach. On Shabbat, the family ate in the dining room and I ate in the kitchen. I was continuously wiping everything I touched with antiseptic. Thankfully, we came out of it unscathed."
By his own account, being an emergency physician hasn't been easy for the Schwartz family, particularly for the kids. He was attracted to medicine while still in high school and dabbled in emergency work after graduating from the University of Toronto's medical school. He loved the problem-solving aspect of it and the need to "think on your feet." While 90% of the work is routine, he says, the other 10% "is the adrenaline rush that you see on TV."
Still, saving lives left Schwartz little time with his family. He often worked the night shift and slept during the day. Once, while doing shift work as chief of the emergency department at Toronto's Northwestern Hospital, one of his daughter's friends looked at her, bewildered, and asked, "Do you have a daddy?" When his wife told him the story, he was devastated.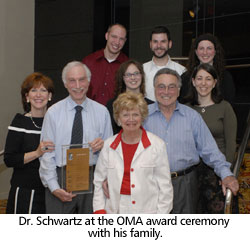 Looking back, the proud grandpa of three jokes that's why none of his kids have opted for a career in medicine. Elana, 26, and her husband, Shmuel Soroka, are educational directors at National Conference of Synagogue Youth (NCSY) in Toronto and have two toddlers. Naomi, 25, is a preschool teacher who has just returned from two years in Israel with her husband, Ryan Spodek, and their infant son. Moshe, 23, studied philosophy at York University and was recently married to Maya Nadel. The youngest, Shira, 22, graduated from York's theater school and now studies in Jerusalem.
"The ophthalmologist's kids and the dermatologist's kids all want to go into medicine," he quips. "But not the emergency physician's kids. No way"
He's a supporter of NCSY and Aish HaTorah, and has devoted many hours to training Toronto's Jewish volunteer paramedic group, Hatzolah
That's why Shabbat is so inviting. It's a chance to reconnect with Robbie, daven (pray) besides the kids and grandkids, and catch up on their lives. He's a supporter of NCSY and Aish HaTorah, and has devoted many hours to training Toronto's Jewish volunteer paramedic group, Hatzolah. And for the past three years, the self-dubbed "quasi-baal teshuva" (one who becomes observant) has started each weekday at his synagogue's Amud Yomi class, followed by morning minyan (prayer group). It's one of the things he's most proud of because, despite a busy work schedule, he has stuck with it.
"I've always been an early riser, but I used to do paperwork as the sun was coming up," says Schwartz. "Now I head off to shul for learning and davening instead. I've been studying Gemara sporadically for years, but my shul's Amud Yomi class has really changed my life. The class is composed of professionals like me, and our rabbi keeps the material relevant to day-to-day halacha (Jewish law) and even our secular lives. It helps me set my priorities, sharpen my mind, and, most importantly, teaches me Talmudic concepts, methodology, and tradition. It is both an intellectual and spiritual way to start my day off on the right track."
And his advice to shul-goers?
"Don't come to shul if you're sick," he says. "But if you do, then don't shake everybody's hands. We have to be more vigilant. It's just common sense, but it can save lives."
Reprinted with permission from Lifestyles magazine, Feb 2008, edition