I don't cry.
Or rather: I never used to cry. Until my daughter got engaged.
When Yael announced that she was getting married, that she'd found the man with whom she wanted to spend her life and build a family, my wife and I were naturally thrilled.
But no sooner had I absorbed the wonderful joy of this news than something else crept up from behind, circled in front and slammed me in the stomach.
I didn't know where this pain was coming from but it sure packed a mean punch.
Was this pain I was feeling? Or love? Could it be sadness? For some reason, there was a tinge of mourning. Where was this coming from? I didn't know but it sure packed a mean punch.
Now generally speaking, I'm not an emotional guy. I pride myself in taking the level-headed approach to life.
Yet for three days straight, I could hardly sleep. I found myself sobbing myself to an uneasy sleep, then waking in the middle of the night and wandering the house with nothing to comfort me until I opened up Yael's photo album and sobbed over her pictures until they got soggy.
I couldn't quite place this unexpected and seemingly irrational reaction but it felt sad and sweet all at the same time. And really deep.
I felt that in some way I was losing my daughter. I was losing my gorgeous little baby (overnight, she reverted to being about one year old again). Memories I hadn't remembered in years flooded through me in Technicolor detail, with heart-wrenching violin accompaniment: Yael smiling in her crib after her nap, Yael in the puddles after a rain overshadowed by a huge umbrella, Yael holding our hands on a path in a forest, Yael riding in her stroller, Yael stuffing her face with popcorn, Yael lighting Chanukah candles, and thousands of nights saying the Shema together and kissing her to sleep while singing her personalized Yael-songs.
It was all so over-the-top mushy it was approaching the ridiculous. But what did that matter? My mind was no longer in control ― my emotions had taken over the reigns and were dancing gleefully through me at breakneck speed and intensity.
And I felt it wasn't just my daughter I was losing. The whole fabric of my family was about to change. My beautiful, precious family, all with their own beds under one cozy roof, was going to be shattered, ended, never to return – EVER.
And thrown into the mix was the feeling of my own life moving on. This wonderful stage that had lasted for 20 years was now radically altering. But I don't want it to end!!
Then I got better. For a while. The excitement and energy of wedding arrangements took over and I was chugging away in my usual action-mode, coping in the traditional manner with this happy time of our lives.
Then suddenly the day of the wedding was around the corner and the waves of emotion returned in full force, swells that surged and ebbed without warning. I began to fear the wedding ― the chuppah was liable to become an embarrassing tsunami if I didn't get a grip of myself.
(Don't get me wrong. My son-in-law is a wonderful young man and none of this had anything to do with him.)
I spoke to friends who had married off their daughters and I discovered a secret phenomenon. I was not alone. I had uncovered the father-marrying-off-his-first-kid-and-she's-a-girl syndrome. Why had no one warned me of this before?
This seems unique to fathers. On some subterranean level we sense the tectonic movements taking place in the relationship; my daughter's orbit is shifting to another man.
My case was not all that extreme. One friend said he could hardly speak to his son-in-law for a month.
My case was not all that extreme. One friend confided that from the night before his daughter's wedding until the end of the week of Sheva Brachot celebrations, he didn't stop crying. Another said he could hardly speak to his son-in-law for a month. Another described bawling his eyes out uncontrollably at the bedekin (veiling) ceremony.
But they also consoled me with some reassuring news. They discovered that they didn't really lose their daughter and eventually things got wonderful again, albeit in a whole new way: a new son in the family, grandchildren (with God's help) in the future, and a whole new phase of life and pleasures.
On the day of Yael's wedding, obsessed by images of me collapsing under the chuppah and spoiling her joy, I barged into my rabbi's office to seek wise counsel. His response was sharp.
"Ephraim, what are children for?" he asked me, moving right past my sentimentality and getting straight to the point.
"Um, mmm, umm…." I babbled, my brain a soggy puddle. Reaching, I vaguely recalled some distant reason for having children.
"Children aren't entrusted to us by God to enjoy their cuteness," he sliced through me. "They are to teach us about our relationship with our Creator. Our love for our children is the easiest lesson we have to teach us how much the Almighty loves us. That's why He designed these relationships: To educate us how to get close to Him. And just like His greatest pleasure is to see us reach our potential, to reach personal greatness and to become independent, similarly we as parents guide our children to their own independent happiness and fulfillment."
My blurry, bloodshot eyes began to re-focus.
"Our greatest pleasure as parents is to see our kids reach their potential. We want them to have their own families and they need to do so in order to reach their own personal destiny. Her independence is your pleasure. That's why you brought her into this world."
His wisdom strengthened me. I made it through the day in one piece. But, just before the chuppah, when I started to give Yael the traditional blessing, I lost it. There was simply far too much emotion to fit into the words and it flowed over the two of us.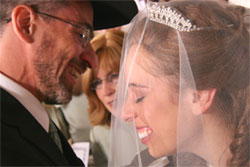 As she circled her husband-to-be seven times, the past 20 years of joy and warmth and love all merged together into one overwhelming sensation. It felt like we'd been rocketed into the heavens where we basked in the presence of the Almighty Himself as He showered the young couple with His love and affectionately tied their souls together for eternity.
And I wasn't too bad under the chuppah. I did have a very good cry. It was sweet and sad, and full of love and hope and memories and dreams. And most of all, happiness in seeing my darling Yael take this leap into her future and knowing my wife and I had done something very right.