Dear Abba,
They say that time heals all wounds. I don't know. It's been 13 years, yet; somehow, there is still this crack in my heart that never seems to have healed. I miss you so. I close my eyes and see your beautiful face before me. I hear your voice as you say to me "Shayfalah, (my sweet dear), don't worry. Everything will be all right."
I'll never forget the day we slowly walked the halls of Sloan Kettering Hospital together. I slipped my hand into yours; but I honestly don't know who was leaning on whom. You were undergoing the most difficult treatments and yet you never complained. "Rabbi, on a scale of 1 to 10, what's your pain level?" the nurses would ask. "Thank God, it's zero," you'd reply, with that amazing smile of yours.
You never wanted to burden us with your fears or pain. Visitors came and thought they'd bring good cheer, but instead you gave comfort and strength to us all. You lived with faith, genuine faith, until your very last day on earth.
I just took it for granted that you never yelled. Now I realize how remarkable that is.
When I was a little girl, you always had time and patience for us children, no matter how tough your day. I just took it for granted that you never yelled, you never shouted. Now, as a mother myself, I realize how remarkable that is. You made parenting seem so easy.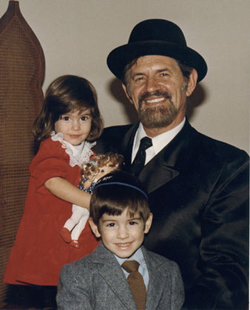 When we would come home for a visit with our little ones, you would stand by the steps with your arms outstretched. "Gorgeous children!" you would say with a smile. "Bubba and I are so happy you are here!" Your enthusiasm for life and the souls that you were granted never waned. You would take the children outside to smell the spring flowers and feed challah to the ducks in the lake. You would sit on the floor and build blocks with the toddlers as the babies would happily crawl over your 6-foot 2 frame. Once you said to me: "You see the real strength of a man if he can take a moment to bend down and listen to the whispers of a child."
When I'd be woken at 3 a.m. by a crying infant, I would wander into the kitchen to find you with your holy books sprawled out on the table, humming the words as you learned.
"Give me the baby, Slovalah, I'll hold him as I learn," you'd say.
"Are you sure?" I would ask. "It's three in the morning. Don't you need to sleep?"
Your face would light up and you'd laugh. "Do you know why babies wake up in middle of the night, shayfalah? They're up to keep us learning Torah!" You would sing until your newest grandchild would slumber contently in your arms. I have no doubt that your words and prayers remain hovering above each child as they grow.
Abba, I remember sitting shiva for you, shocked that you were gone. We had only nine weeks to say goodbye. The shiva house was constantly packed. As 'the rabbi' for more than 30 years, you touched so many lives besides ours.
When you and Ema moved to North Woodmere, L.I., you made it your mission to establish strong Jewish roots and reconnect people with their Jewish heritage. I believe it was because you had both endured the flames of the Holocaust and lost your entire family that you were pained as you now watched a spiritual conflagration take place before your eyes. Through great dedication and sacrifice you opened up our home to the entire community, never judging, only reaching out to others with love. You taught me how to open my heart, and what it means to carry the burden of another. I watched as you and Ema shared in the joys and cried for the pain of our people.
That week of shiva, there were countless individuals wanting to tell us their stories about you. I looked around the room and wondered how one man could touch the lives of so many. From the corner of my eye I noticed a little girl, sobbing. She must have been 8 or 9. I didn't know who she was. I remember thinking: Why is this child crying for my father?
One night, the Rabbi knocked at our door. "I'm here to help you," he said.
Her mother began to speak. "Your father was not only our Rabbi, he taught us to love Judaism. When we decided to send our daughter to a Jewish day school, we had one difficulty. We couldn't help her with her homework. We had no background, no knowledge. At first we would call your father with questions. And then one night, the Rabbi knocked at our door. 'I'm here to help you,' he said. Each night he would come to explain the work and teach us, too. How did he have the time and patience? I'll never know. My daughter and I are crying for our Rabbi. We will miss him."
And I still miss you, even now. Sometimes I imagine how you would have danced at our Bar Mitzvahs and weddings, and given our children your special blessing. But then I realize that you are surely watching and sending us your blessings from Above.
And I remember, too, the time that you and I had a few moments in the hospital, alone. You had surrounded yourself with all your holy books from home. You lined them up on the windowsill, transforming that gray dreary room into a place of sanctity. You motioned for me to bring a Chumash, a Bible, to you.
You opened to the portion of Vayechi when Jacob became ill. You asked me to read. I tried but my voice broke as I read. "Read for me, shayfelah," you gently encouraged me.
I read how Jacob called his son Joseph and his grandchildren to his deathbed. He then bestowed his final blessing -- the blessing of the angels...Hamalach HaGoel.
You looked at me for a moment and then you spoke. "I came to this country all alone. I walked through the valley of death. I never thought that I'd see life again. And then God blessed me with new life, with your Ema, with beautiful children. So I knew that I, too, was given the blessings of the angels. I know that I am leaving you soon. What can I possibly give you? What has meaning and value forever?" I began to sob and buried my face in my father's neck. His hot tears mingled with mine.
"I leave you with my blessing, my child, the blessing of the angels. May they accompany you and your children and children's children wherever you may go."
I will never forget that day. I hold onto your blessing and feel your love. With gratitude to my precious father,
Slovie