After seven years of trying to have a baby, we gave up. The hi-tech fertility treatments produced nothing but exhaustion -- emotional, physical, and financial. After ditching my last vial of fertility drugs, the miracle finally occurred:
Baby's Name: Yair Landesman
Date of Arrival: February 13, 2006
Location: JFK Airport
No, I did not go into labor at the airport. I wasn't expecting in the biological sense. Yair Landesman was originally Yong (Brave One) Kim. Born in Wonju, South Korea, he was fostered for seven months in Seoul.
In 2003 Yosef and I decided to pursue the one avenue that would virtually guarantee us a child. Thus began our foray into Adoption 101.
The most immediate question was: Which country to adopt from? (Domestic adoption was fraught with problems.) Russia was out due to rampant alcoholism. A baby from Guatemala could perhaps pass for Sephardic, but the fees were prohibitive.
"What about South Korea?" suggested David, a student at Columbia University where I worked.
"Yeah, right!" I retorted. "That would be like hanging a billboard over our kid: 'I'm Jewish. Really.'"
"My cousins adopted a boy from Korea and he's quite popular in his yeshiva. Why don't you talk to them?" he advised.
And so we found ourselves at the home of Leah and Sam Schwartz. A Disney-shirted four-year-old greeted us. Jacob's almond-shaped eyes opened wide as he yelled, "Hey, Dad, there is a people here!" Before we got another glimpse of him, Jacob rode away on his truck.
As my husband and I drove home later, we agreed that rambunctious Jacob fit naturally in the Schwartz clan. Our passion for Korea grew, even as we began the grueling application process to Spence-Chapin, the adoption agency, in August 2004. We had to submit personal photos and answer 50 essay questions to prove our parent-worthiness and universality, such as "Who is your hero?" Yosef's was Gandhi, and mine, Grandma Moses.
Our eloquently written essays along with obsessively chosen photos notwithstanding, what clinched the deal were our reference letters. Onto the next hurdle: two home visits by a social worker, Jane. Visit One was scheduled for January, 2005.
My husband feared the couches clashed with the carpet, and we'd be deemed unworthy of a baby due to our bad taste.
I cooked cinnamon sticks to emit a homey aroma. Yosef, however, panicked over a detail I had overlooked: Aunt Annette had just given us two new couches. Despite their ornateness, he feared they clashed with the carpet, and Jane would deem us unworthy of a baby due to our bad taste.
Jane rang the doorbell. She began by re-asking the essay questions almost verbatim.
Yosef sighed, no incriminating questions so far. Jane then asked if she could take a look around the apartment.
"Do you --" she began.
Uh oh, here it comes...
"-- have firearms in the apartment?"
"You mean guns?" Yosef sputtered.
"No," I quickly answered.
She also wanted to know if we stashed drugs, of the non-prescription variety.
Thus we survived Visit One. Number Two would be scheduled after we were assigned a child, which Jane predicted would be around October.
Rosh Hashana, which occurred in late September, was particularly painful. It is a family holiday and we were not yet able to create our own family. When would we hear news of our child?
On Yom Kippur Eve, about to leave for the hospital where Yosef worked as Chaplain, I somberly packed a few items, grumbling about how we still had no word about a child. Yosef urged me to call Jane. "What for," I moaned. "If there was news, she'd be calling us." Nevertheless, I left her a message and soon drove to the hospital.
Later, as I was parking, Yosef called me on the cell. "Shulamis, are you sitting down?"
"Yes, but I'm parking. I'll call you back."
Two minutes later, he called again, "Are you sitting down?"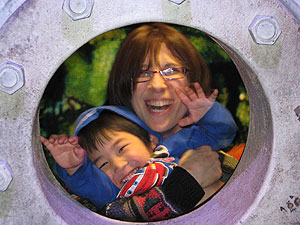 "Okay! I'll sit down."
"We're going to have a son! His name is Yong!--"
"What?" I shrieked, crying and laughing.
"Jane just received our son's—" he said chokingly "...file."
"You mean we're parents?" I swallowed tears. "When was he born? How much does he weigh?" I didn't wait for answers.
I called Jane making her repeat the vital statistics. She assured me that we'll receive all the details in person. I danced around the chaplain's quarters, dreaming about my baby.
A call from the hospital cantor interrupts my mania. "Where is everybody?"
Oh, it's Yom Kippur. Yosef and I ate the pre-fast meal hastily, thinking only of our baby, our Divine gift.
-------------------
On Monday morning, Jane arrived. We exchanged pleasantries and I managed a few breaths as she opened Yong's file. "Just show us his picture already!" my mind pleads.
"And here's Yong," Jane said finally.
I glimpsed quickly, afraid of confirming his homeliness. I glanced again -- can it be? Fuzzy black hair, sweet brown eyes, and a neck submerged in an adorably chubby chin!
To God I whispered, "Thank you." To Jane we blurted out, "When can he come home?"
Yosef and I exulted simultaneously, "This is our son!" To God I whispered, "Thank you." To Jane we blurted out, "When can he come home?"
"It could take three to five months," she said matter-of-factly. "Meanwhile, you'll receive progress reports."
That lone photo and Yong's reports were our oxygen till "Gotcha Day." Friends, relatives, and anyone we ever met were emailed Yong's photo. Then an envelope from Spence-Chapin arrived. I opened it absentmindedly, assuming it was a bill. Incredibly it was an updated photo! More emails were sent, and continued good wishes streamed in.
I hated the second photo. Yong was balding and unflatteringly chubby. Despite my disappointment, I enjoyed my celebrity status as a future adoptive parent. "You'll make great parents."... "Yong looks like Yosef." Then the insensitive comments: "Now you'll have your own child," someone predicted. "You mean a biological child," I corrected, smiling falsely.
Two months later, "Gotcha Day" finally arrived, on February 13, 2006. At JFK we met Megan and Sean, the adoptive parents of the other baby on the flight. Megan and I exchanged baby photos. The four of us obsessively looked at our watches, glancing towards incoming passengers.
Megan and I spotted two Korean ladies carrying babies on their backs. I compared Yong's pictures with the first baby. "Mine is next," I asserted. "No, this one's yours," Megan replied. REALLY? This gorgeous baby is mine?
I stretched my arms towards Yong. He reached out to me, his mother. I held him. He snuggled naturally into my embrace. My heart swelled with inexplicable emotion. "Shulamis," Yosef eagerly reminded, and I handed over Yong. Yong removed his father's glasses. He knew we're his parents. He is Brave and Beautiful -- because he is ours.