I vividly remember Tisha B'Av at home when I was growing up. The entire nine-day period was a very somber time for my parents.
When my father, may his memory be blessed, would sit down to the Seudas Hamafsekes, the final meal before the fast, he would dip his egg into ashes, and with tears streaming down his face, he would force himself to eat, feeling the pain of this bitterly long exile. This period made him remember his personal tragedy; he had lost his entire family, not only parents and siblings, but also a wife and child.He never ever told us anything about it, but we knew that it pained him greatly.However, life goes on and we women have to continue our tasks by trying to create dishes that are easy to make and light before and after the fast. Here are some suggestions that could help you plan your menus around the fast.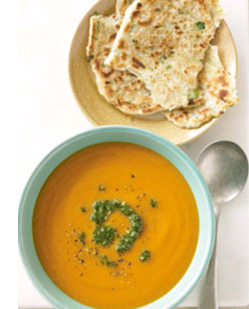 Carrot and Green Onion Soup
This soup is easy to make and very light and nourishing before the fast. Please do not fret over ingredients, use whatever you have handy and available in your pantry
Ingredients
2 Tbs (75ml) canola oil
1 medium onion, coarsely chopped
3 stalks green onion checked and sliced
6 (about 1kg) carrots, peeled, coarsely chopped
2 potatoes, peeled, coarsely chopped
2 tsp ground coriander
1 tsp ground cumin
1 bunch coriander, washed, checked, dried (optional)
6 cups (1 ½ liter) water
1/4 cup (45g) roasted cashews, coarsely chopped
1 garlic clove, chopped
Instructions
Heat 1 Tbs of oil in a large saucepan over medium-high heat. Add the onion and cook, stirring, for 2 minutes or until soft. Add the ground coriander, cumin and cook, stirring, for 1 minute or until aromatic. Cut the coriander roots from the fresh coriander and coarsely chop. Add to the onion mixture with the carrot, potato and water. Bring to a boil. Reduce heat to low and simmer, stirring occasionally, for 30 minutes or until carrots and potatoes are tender. Remove from heat. Add roasted cashews leaving some for garnish.
With a blender stick blend until smooth. Season with salt and pepper to taste. Garnish each plate with sliced green onions and remaining cashews
Serve with a generous slice of onion bread (recipe follows) for an almost complete meal.
Refreshingly Cool Cucumber Soup
During the summer months, we try to eat cooling foods to stay refreshed. Cucumbers are considered cooling, so even though I rarely cook cucumbers, summer is an exception. This soup can be savored hot or cold.
Ingredients
2 Tbs. olive oil
1 large onion
2 cloves garlic
2 stalks celery sliced
2 English cucumbers peeled and chopped
1 red pepper cubed
6 cups water
2 Tbs rolled oats
½ tsp sea salt or to taste
1 Tbs lemon juice
Instructions
In a 3 quart pot, heat oil over medium flame, adding onions and garlic. Cook until translucent. Add remaining vegetables and allow sweating for 5 minutes. Add the water, oats and salt, cover and simmer for 20 minutes. Blend soup with a blender stick. If too thick add water, if too thin add oats to obtain desired thickness. Chill for 4-6 hours.
Preparation 10 minutes Serves 6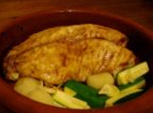 Tilapia Steaks
A very easy to prepare fish dish that is sure to please every palate.
Ingredients
6 tilapia steaks
1 lemon juiced
1 Tbs mayonnaise
2 Tbs lemon pepper spice
Sprinkle lemon juice over fish slices
Dab on a thin layer of mayonnaise on each slice
Sprinkle a generous amount of lemon pepper over fish so it will form a crust.
Bake @ 450 for 15 minutes on each side.
Preparation 10 minutes Serves 6-8

Onion Board Bread
This onion bread — whether formed into individual rolls or, rolled out into a flat bread is delicious before or after the fast.
Ingredients
3 flat teaspoons dry yeast dissolved in ¼ cup water
3 cups whole wheat bread flour
1 cup whole wheat pastry flour
¼ cup honey
1 tsp salt
¼ cup oil
1 cup water or as needed
1 egg
1 Tbs sesame seeds
1 tsp coarse salt
1 large onion chopped
1/3 cup oil
Instructions
Mix all ingredients to form an elastic dough, allow to rise for 1 hour. While dough is rising, fry one large onion in a generous amount of oil. Roll out entire dough flatly onto a cookie sheet. With a fork, prick holes all over the dough. Scatter cooked onions evenly over dough, leaving a 1-inch border, and then sprinkle with sesame seeds and coarse salt. Bake 30 minutes @ 350.
Lift bread from pan and transfer to a rack to cool slightly.
Cut into roughly 3-inch squares before serving.
Dough can be shaped into pretzels, buns or bagels, just be mindful of baking time so it does not harden.
Preparation time 30 minutes
Start to finish 2 ½ hours
Serves 6-8

Baked Lentil Burgers
These latkes have a very similar feel to meat burgers, yet they are very healthy and nourishing. Good any time of year.
Ingredients
2 cups green lentils
4 cups water
1 onion diced
1 tsp minced garlic
1 red pepper diced
1 zucchini diced
2 Tbs oil
2 eggs
1 cup breadcrumbs or as much as needed
Salt, pepper cumin to taste
Instructions
Bring water to a boil; add lentils. Cover and cook for 25 minutes until soft.
In a pan sauté onion, garlic, pepper and zucchini until soft.
Drain lentils and mash well, add all other ingredients. Refrigerate for ½ hour.
Grease a cookie sheet and form patties of desired size and bake for 15 minutes on each side. Turn over gingerly with a spatula so as not to break patties.
Drizzle with techina or Tamari sauce.
Serve with a green salad, or in a pita bread
Preparation 30 minutes
Serves 4-6

ZUCCHINI PANCAKES (DAIRY)
Make these pancakes small and let your children eat them with their fingers –as they come out of the pot. They probably won't even realize they're eating vegetables.
4 large zucchini
6 scallions, thinly sliced or ½ small onion, minced
1/4 cup chopped fresh dill or 1 tablespoon dried dill (optional)
8 ounces low-fat feta cheese or farmer cheese
1 teaspoon paprika
1/2 cup whole wheat pastry flour
3 eggs, beaten
Olive oil for frying
Grate the zucchini coarsely. (A food processor works well.) Add the scallions, dill, cheese, paprika, flour and eggs.
Heat the olive oil in a large skillet. (a non-stick pan will work well and does not need too much oil.) Drop the zucchini mixture by large tablespoons and spread them out to make thin patties. Cook until crisp and brown on both sides.
Makes approximately 24 pancakes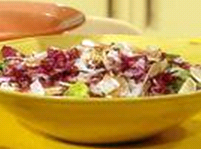 Garden Green and Red Salad
Great salad for any occasion
Ingredients
Dressing:
2 cloves garlic, minced
1 Tbs lemon /lime juice
½ tsp salt
½ tsp garlic powder
Pepper to taste
1/3 cup olive oil
Salad
6 cups Romaine lettuce
2 cups radicchio (red bitter leaf) picture shown here
1 small fennel bulb trimmed and thinly sliced
1 daikon grated with large holes
1 red pepper thinly sliced
1 small red onion thinly sliced
1 Tbs olives (optional)
In a big bowl tear leaves into bite size pieces and combine with all other ingredients. Drizzle with dressing just before serving.
Preparation 10 minutes Serves 6-8

Cheese Blintzes
Ingredients For blintzes batter • 3 large eggs
1/4 cup water
1/4 cup milk
1/2 teaspoon baking powder
1/2 cup all-purpose flour or whole wheat pastry flour
1 Tbs sugar
2 Tbs oil
For filling • 1 1/2 cups farmer cheese
1cup cottage cheese
2 Tbs yogurt
1/4 maple syrup or honey or to taste
1 1/2 tsp cinnamon
Ingredients To Make batter:
In a blender blend batter ingredients and let stand 30 minutes.
In an 8-inch skillet, preferable non-stick, heat 1 tsp oil over moderately high heat. Pour in enough batter just coat the bottom of skillet, swirling oil around, and cook undisturbed for 3 minutes then turn over and cook for another 2 minutes. Transfer blintz to a plate. Make more using up remaining batter.
Make filling:
In a food processor, blend cheeses, maple syrup or honey, and cinnamon until smooth. If necessary, add flour to thicken filling.
Put 3 tablespoons filling in center of each blintz and fold opposite sides of wrapper over filling until sides barely touch. Fold in ends to completely enclose filling, forming packets, and arrange, seams sides down. Serve immediately. Top with strawberry yogurt and strawberries or fruit of your choice.
If you want to serve it later, line blintzes on baking sheet. Bake covered loosely with foil, until heated through, 5 to 10 minutes. Some like to refry their blintzes for a crunchy top.
Variation: blintzes can be filled with just about anything. Some members of my family like their blintzes filled with mashed potatoes, while others like it filled with cherry pie filling. Take your pick and enjoy it any which way you please!
Preparation 15 minutes
Makes 10 blintzes