The kosher diva has done it again. Susie Fishbein, author of the wildly popular Kosher by Design cookbook series is releasing her fifth project --Passover by Design (ArtScroll Shaar Press, February 2008; $29.99/Hardcover, 276pp; ISBN: 1578190738). With over a quarter of a million books sold, Kosher by Design has become the most popular kosher cookbook series in print today. Passover by Design follows suit with Fishbein's signature style of combining gorgeous food and decor photos together with 172 chic recipes that shimmer with simple elegance.
"This cookbook is solely focused on Passover," Fishbein explains. "It includes so many helpful suggestions for preparing dishes that are as eye-pleasing as they are delicious. Also, you'll notice a blend of both familiar and brand new recipes. I painstakingly went through the previous Kosher by Design cookbooks and completely reformulated over 130 recipes to be thoroughly kosher for Passover. I've added over 30 fresh recipes as well that are superb and even unique for Passover."
Enjoy this sneak preview, exclusive to Aish.com readers.
To preorder your copy, click here .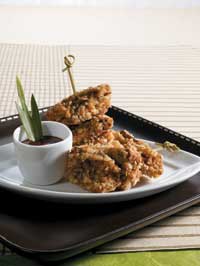 Portobello Stacks with Honey-Balsamic Ketchup
PARVE • MAKES 6-8 SERVINGS • GEBROKTS
These crunchy mushrooms with their sweet and sour dipping sauce are a great way to start a meal.
Fill a medium pot halfway with oil. Heat over medium to 375–400°F, maintaining this temperature throughout the cooking process.
Scoop out and discard the gills from the bottom of each portobello cap. Peel the skin from each cap and discard. Slice each cap into 8-12 triangles, depending on size of mushroom. Set aside.
Place matzo meal, matzo farfel, mustard, salt, and pepper into a shallow container. Using your fingers, toss to mix.
Place eggs into a second shallow container and whisk lightly.
Dip each portobello triangle into the eggs and then into matzo-meal mixture, patting it to coat well.
When all the mushrooms are coated, carefully lower one into the hot oil (it should gently bubble but not burn), and cook to a golden brown. If the oil is not hot enough, the mushrooms will soak it up like a sponge; if it is too hot, the mushrooms will burn. Once the temperature is correct, fry the mushrooms in batches, 1–2 minutes per side, until golden-brown. Allow them to drain on paper towels.
Skewer 3-4 mushrooms triangles on each skewer.
Prepare the Honey-Balsamic Ketchup: In a small bowl, whisk ketchup, vinegar, honey, salt, pepper, and consommé powder.
Serve 2 skewers per person with a small bowl of the dip.
vegetable oil
4 very large portobello mushroom caps
1 cup matzo meal
3/4 cup matzo farfel
2 teaspoons imitation mustard
1/2 teaspoon fine sea salt
1/4 teaspoon freshly ground black pepper
3 large eggs
6-inch skewers
HONEY-BALSAMIC KETCHUP:
1/2 cup ketchup
2 tablespoons balsamic vinegar
1 teaspoon honey
1/2 teaspoon fine sea salt
1/4 teaspoon freshly ground black pepper
1/4 teaspoon parve chicken consomme powder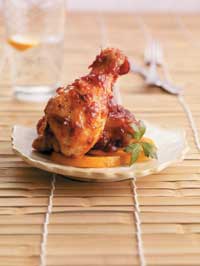 Cranberry Chicken
MEAT • MAKES 4–6 SERVINGS • NON-GEBROKTS
You will love this moist chicken dish. The combination of tart, tangy, and sweet, plus its gorgeous colors, will surely make it a keeper for all-year round.
Preheat oven to 375°F.
Zest 1 orange and reserve the zest. Slice the orange.
Slice the second orange and place all the orange slices in an even layer into a roasting pan.
Arrange the chicken skin-side-up on the oranges.
In a medium bowl, mix the cranberry sauce, dressing, and onion soup mix. Add the orange zest.
Mix. Pour over the chicken, coating all the pieces.
Bake uncovered for 11/2 hours. Transfer to a plate or serving platter along with the caramelized orange slices.
2 medium oranges
1 chicken, with bone and skin, cut into eighths
1 (16-ounce) can whole berry cranberry sauce
1 cup bottled French dressing
2 tablespoons dry onion soup mix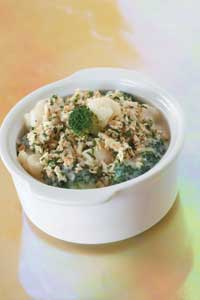 Broccoli and Cauliflower Gratin
DAIRY OR PARVE • MAKES 12 SERVINGS • GEBROKTS
This dish can be prepared in one large casserole dish or for single servings in 4-ounce ramekins.
Preheat oven to 375°F.
Spray a medium oven-to-table round casserole dish with nonstick cooking spray.
Bring a large pot of water to a boil. Add the broccoli and cauliflower and simmer until soft but not mushy.
In a medium pot, whisk the cream or creamer, salt, pepper, consommé powder, thyme, white pepper, garlic powder, and nutmeg. Add the bay leaf. Bring to a simmer over medium heat. Dissolve the potato starch in the stock. Add to the pot. Simmer for 5 minutes. Add 1/2 tablespoon butter or margarine and stir until melted.
Drain the broccoli and cauliflower and place into the prepared dish. Pour the cream mixture over the vegetables. Stir to coat. Gently tap to bring some of the cream to the bottom.
In a medium skillet over medium heat, melt the remaining 3 tablespoons butter or margarine. Add the garlic. Sauté until translucent about 1 minute. Add the farfel. Season with 1/8 teaspoon salt and 1/8 teaspoon black pepper. Sauté until golden brown and toasted, about 2–3 minutes. Turn off the heat. Mix the parsley, cheese if using and fresh thyme leaves. Stir to combine. Sprinkle this topping over the dish.
Bake, uncovered, for 20 minutes, until cream is bubbly and cheese, if using, is melted.
nonstick cooking spray
1 head broccoli, cut into small florets
1 head cauliflower, cut into small florets
2/3 cup light cream or nondairy creamer
1/2 teaspoon fine sea salt
1/8 teaspoon freshly ground black pepper
1 teaspoon vegetable or parve chicken consomme powder
1 pinch dried thyme, crushed
pinch white pepper
pinch garlic powder
pinch nutmeg
1 bay leaf
1 tablespoon potato starch
1 cup vegetable or chicken stock
3 1/2 tablespoons butter or margarine, divided
1 clove fresh garlic, minced
2 cups matzo farfel
1/4 cup minced fresh parsley
1/2 cup grated Parmesan cheese, optional for dairy meals
1 tablespoon fresh thyme leaves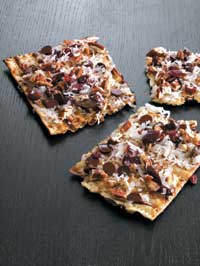 Butterscotch Crunch Bars
DAIRY OR PARVE • MAKES 20 BARS • GEBROKTS
Preheat oven to 350°F.
Melt the butter or margarine and brown sugar in a pot over medium heat, whisking until the mixture is melted and smooth.
Cover a jelly-roll pan with aluminum foil. Line the pan with a single layer of matzo, breaking as necessary to fit. Pour the brown sugar mixture over the matzos, spreading evenly with an offset spatula to make sure every surface is covered. Bake for 10 minutes.
In a medium bowl, toss the pecans, coconut, chocolate chips, and cranberries.
When you remove the pan from the oven, sprinkle an even layer of the coconut mixture over the top.
Cut into bars while warm
.
12 tablespoons butter or margarine
1/2 cup dark brown sugar
4 matzo boards
1 cup chopped pecans
1 cup shredded sweetened coconut
1/2 cup semi-sweet chocolate chips
1/3 cups sweetened dried cranberries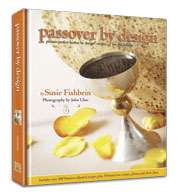 To preorder your copy, click here.

Used by permission, ArtScroll Shaar Press Publications, Brooklyn NY, February 2008.