High atop the Mount of Olives, the funeral was coming to an end. The rabbis had eulogized, the masses had wiped away their tears, the politicians had come and gone, and 15-year-old Neria Cohen, the youngest of the eight victims slaughtered at Mercaz Harav yeshiva, finally rested beneath a fresh mound of earth.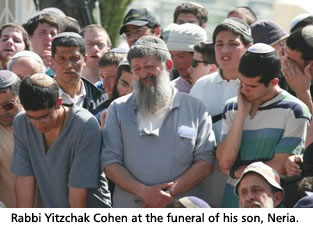 His father, Rabbi Yitzchak Cohen, a rabbi at Aish HaTorah's Hesder program, recited the final mourner's Kaddish. Friends, relatives and classmates of Neria began to file out of cemetery and make their way down the mountain to prepare for Shabbat. I stood there beside Rav Yitzchak as people approached him and hugged him in consolation before they left.
One boy grabbed Rav Yitzchak's shoulder with a deep sense of urgency. "What is your name?" the rabbi softly asked. The boy mumbled something through his tears. "Ah...you were Neria's chavruta (study partner)?" He nodded affirmatively. Rav Yitzchak looked him in the eye and said, "Oy! You don't have a chavruta anymore!" The boy gasped out a sob and buried his head in Rav Yitzchak's shoulder. The two wept together, one for his innocent, angelic-faced son who had been murdered less than a day earlier, the other for the study partner with whom he would no longer share the thrill of deciphering a passage of the Talmud.
Rav Yitzchak's ability to console a young boy amidst his own grief comes as no surprise.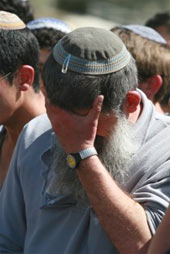 For those of us at Aish HaTorah who have been privileged to study with Rav Yitzchak, his ability to console a young boy amidst his own grief comes as no surprise. We all know him as a giant in spirit, a man whose moral compass is unswerving, a believer in fundamental truths. He is a genius in Torah, with an encyclopedic knowledge of Jewish law. Ask him a question on Judaism, life or current events, and the answer is always firm and succinct. To me, Rav Yitzchak is a paradigm of belief in an unwavering truth. His character exudes a certain power that comes from a moral clarity.
When I first saw Rav Yitzchak at around midnight Thursday night, just a few hours after the attack, I didn't know that his son Neria was one of the victims. I was walking in the Old City and the rabbi motioned for me to approach him. I did and he put his arm around my shoulders. He told me that his son was missing and asked that I please tell the two students who he had invited over to his house for Shabbat that this week the invitation wasn't practical. He said it so softly, with his usual calm, matter-of-fact voice, that I didn't immediately realize the extent of the tragedy. Only the next morning, when I found out that Neria was among the murdered, did I realize that I had spoken to Rav Yitzchak right after he had heard the news.
Whenever I saw Neria, I saw a miniature version of Rav Yitzchak. Neria was a child who lived with a deep awareness of what was important in life and was prepared to make sacrifices for those values. He wore an expression that was combination of his father's determination and his own angelic innocence.
Many politicians, journalists and well-intentioned Jews will make their way to the Cohen home expecting to find a family shattered by their tragedy, unsure of their future. But I have no doubt that they will find themselves facing a solid wall of faith and optimism, a profound belief in the Jewish people's ability to fulfill its potential as a light unto the nations. I'm sure this scene will repeat itself in the other seven houses of mourning. These families, thrust into the limelight against their will, are all passionately committed to restoring the destiny of the Jewish people and strengthening our faith and hope.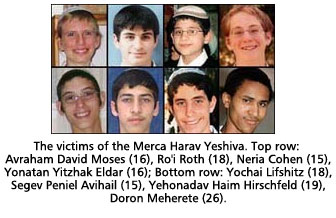 I did not know Neria well but in his rabbi's eulogy he emphasized his straightness of character, his inability to settle for anything but the complete truth. I am sure that many stories will emerge throughout the week of mourning. This week Rav Yitzchak and his wife will mourn the loss of their son, their children will mourn the loss of their dear brother, his yeshiva will mourn the loss of a dear friend. Let us also mourn and not allow God's candle (Neria in Hebrew) to be extinguished. Let us take this horrific tragedy to heart, feel the pain and commit to making some kind of personal change. Let us be a part of Neria's legacy of truth and faithfulness.
Readers can send the family their condolences in the comment section below.