When Amichai Steinmetz finished serving his three years in the Duvdevan special unit of the Israeli army, he felt like he needed a break. Although he had been accepted to study archeology at Hebrew University in Jerusalem, he decided to take a year off to travel. An avid hiker, Amichai chose, like most post-army Israelis, to head out to India, a country that, 160 times bigger than his native Israel, offered endless hiking trails and cheap living. On October 18, 2008, Amichai bid his American-born parents Debbie and Jacob good-bye, promising to call or e-mail them every Friday to wish them, "Shabbat shalom."
Amichai spent six months hiking in India, then in Uzbekistan and other Central Asian republics. Early this summer, his application to extend his visa in that area was denied, based on local fears of swine flu, so Amichai headed back to northern India. He went to the trekker's paradise: the Himalayan region, just over the border of Tibet, near Nepal.
On July 16, he emailed his parents to tell them that he was going on a two-week trek in the Parvati Valley and would be unable to call or email them the following Friday, but they shouldn't worry. Jacob Steinmetz had been wounded six years ago when Arab terrorists opened fire on his car, leaving his arm permanently impaired. His wife Debbie, having prayed her son safely through three harrowing years in the Israeli army, felt like the dangerous period of her eldest child's life had passed. In India, far away from terrorists and war, Amichai was safe. The Steinmetzes weren't worried.
Amichai spent that Shabbat in Khalgal, at the "HaBayit Yehudi," or "Jewish House," a place for roaming post-army Israelis to find camaraderie and kosher food. As for the two-week trek, Amitai's plans changed. On Tuesday, July 21, Amichai set out for a short trek, telling the people at HaBayit Yehudi that he would be back in time for Shabbat. He left with Dovid, a fellow Israeli he had met at HaBayit Yehudi. Before the end of the day, the two boys split up, arranging to meet the next day at a certain point on the trail.
When Amichai did not show up the next day, Dovid was not concerned. Life on the trails of the Himalayas was fluid. Nothing to get up tight about.
Friday afternoon, as Shabbat approached, Amichai still had not shown up at HaBayit Yehudi, as he had told them he would. This was cause for alarm.
Debbie Steinmetz, in her home in Maale Levona in central Israel, got a phone call asking if she knew where Amichai was. She replied that he was trekking and had warned them he would not be calling this Friday. The caller, speaking casually, hung up. At that point, someone at HaBayit Yehudi called the Israeli Consulate in Delhi and informed them that Amichai Steinmetz was missing.
Shabbat day the phone rang in the Steinmetz home, but as a religious family they do not answer the phone on Shabbat. A while later there was a knock on the door. It was the police informing them that Amichai had gone missing. They needed a photo to launch the search.
Levi Pekar, a 21-year-old Chabad rabbinic student, was spending the summer in the Chabad House in Manali, in the same region. His diary provides a first-hand account of the early stages of the search:
Saturday night:

I spent the rest of the night posting missing persons signs with his photo. I put the ringer on my phone on the highest volume and went to sleep hoping for the best but preparing for the worst.

Sunday:

By the time Yehuda [a 23-year-old rabbinic student] and I returned to the Chabad House we had received dozens of offers to help us. ...

We called the consulate who asked us to start arranging search teams from local backpackers to be on the ready to go out and search in case help was needed. We were also notified that an elite search team [from Israel] would be landing tomorrow to start extensive searches.

I spent my afternoon running from guest house to guest house, from one store to the next, drafting volunteers for the search. The outpouring of love and concern among the [Israeli] backpackers and tourists for this complete stranger was inspiring. People who had already made other plans either agreed to delay their trip or to take time to pray for Amichai's safe return [Amichai ben Devorah], and spread the word. People who'd never stepped into the Chabad House volunteered for this great mitzvah with lots of enthusiasm.

Yehuda spent his day posting more signs in other languages and spreading the news to surrounding villages and cities. I made my way to New Manali to visit the local hospital and jail in the hopes of finding any information regarding him; I asked them to contact other hospitals and jails in the area and left them my contact numbers.

Monday

We arranged a morning meeting with Jewish tourists looking to volunteer to join a search party. After the meeting, eighteen backpackers committed to the search for their missing comrade.

Three jeeps left Manali with 18 Israeli volunteers, two Americans, and Yehuda. The atmosphere was somber. Yehuda and I jotted down their names and handed out Tefilat HaDerech (the Prayer for Travelers) cards.

... Later, Yehuda reported, by phone: His group arrived in Kasol at 4:30pm, after a harrowing ride over tiny roads, at 50 mph, and cows surrounding them on each side. The roads were dangerously narrow.

They left half an hour later by jeep towards Khalga. After a 45 minute drive they stopped and hiked for an hour to reach the village. There they were greeted by Yochai, the head of the insurance company's (Harel) 669 rescue unit. Yochai gave them a detailed briefing on what they had to do and how they were to do it. With that, the group ate dinner at the local Bayit HaYehudi in Khalga, run by a very welcoming Breslov couple, Bnei-Yah and Miriam. After supper they retired early in preparation for a long tomorrow.

Tuesday

I woke up at 7:00am after a six-hour sleep. I hadn't slept in 72 hours, so you can imagine that I was a little bit discombobulated. I immediately began organizing the next group to leave for Kasol.

At around noon a jeep pulled out with 10 people and at 5:00 pm another 8 guys followed. ... Yehuda called me with an update. He woke at five in the morning. Within a few hours, he was on his way to Bunbuny through Khirganga. He left the main camp with nine others. An Indian tracker assisted them. ... After a couple of hours of strong rain, fierce winds and dense fog they came upon a tattered red shirt. At first they thought it was Amichai's, because he was last seen wearing a red shirt. But after examining it, they realized it was a child's size. They had a few other close calls, but unfortunately did not find Amichai. Due to the harsh weather, they stopped off at Khirganga and didn't proceed for the rest of the day. That's where the search party is now.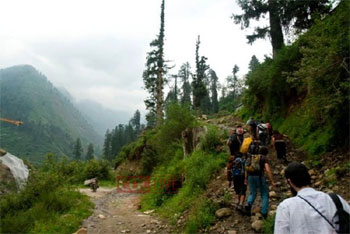 The monsoon conditions stymied also the efforts of the professional search team. Amichai's travel insurance included the benefit that if he went missing, a professional search team from Israel, the Harel 669, would search for him for two weeks. The team included three Israeli professionals, twenty local trackers, and hi-tech equipment. For three days a helicopter was used, but the driving rain made visibility impossible. The rain also washed away any tracks that search dogs could follow. In addition, Israeli dogs, used to working at no more than 1000-meter elevation, could not adapt to the 3200-meter elevation of the Parvati Valley. The search team did use rappelling and a hi-tech method of searching the local rivers.
Fears were focused on the ill will of the local farmers, who grow cannabis and are wary of any stranger who approaches their illegal crops. In addition, buffalo herders from Nepal cross the border illegally and are dangerous to approaching strangers. The Steinmetz family has offered a 200,000 rupee reward to anyone who leads them to Amichai, but so far no one has proffered any information.
Amichai's father and sister flew to India immediately to join the team. In addition, some forty Israeli backpackers volunteered every day. When the insurance coverage for the search team ran out after two fruitless weeks, Jacob and Debbie ordered the search to continue. It costs them over $20,000 a week to continue the search, for which they are dependent on donations.
As of this writing, after six weeks of searching, Amichai has not been found. The Harel 669 has exhausted their methods and returned to Israel. Jacob is presently in Tel Aviv trying to find a rescue team that can offer other methods. Whether or not Amichai is alive, the family will never know closure until he -- or his body -- is found.
The soul-stirring search for Amichai is encapsulated in one vignette: When the first group of Israeli volunteers reached Khirganga and checked into a guesthouse to spend the night, the clerk at the front desk asked if Amichai is a celebrity, because everyone is looking for him. One of the volunteers, a secular Israeli, replied, "Amichai is a Jew, so he's part of our family."
To send donations toward the cost of the search, please visit: http://www.4amichai.org/English/page.php?page=help