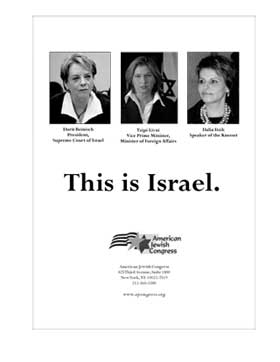 Ms. Magazine has turned down an understated AJCongress advertisement that did nothing more controversial than call attention to the fact that women currently occupy three of the most significant positions of power in all three branches of the Israeli government -- judicial, legislative and executive. The proposed ad included a text that merely said, "This is Israel," under photographs of President of the Supreme Court Dorit Beinish, Vice Prime Minister and Minister for Foreign Affairs Tzipi Livni and Knesset Speaker Dalia Itzik.
Ms. Magazine officials told
AJCongress
that publishing the ad "will set off a firestorm" and that "there are very strong opinions" on the subject the subject presumably being whether or not one can say anything positive about Israel. Ms. Magazine publisher Eleanor Smeal failed to respond to numerous calls by AJCongress President Richard S. Gordon over a period of two months.
Ms. Magazine editors are now saying that they rejected the ad on the grounds that two of the three women are from the same political party. This is the lamest of excuses: in a parliamentary system, it is always likely that the foreign minister and the speaker of the Knesset will be from the same party.
By the same token, if America elects a woman as president and Ms. pairs the new president in a photograph with Speaker of the House Nancy Pelosi to underscore just how profound a change it is that women dominate the executive and (half of the) legislative branches of government, would that betray a partisan political bias or a legitimate feminist bias?
Now Ms. Editors and publishers need to hear from you. Register your compliant at their anti-Israel bias reflected in this decision to bar our ad by writing a letter, calling or emailing them. Tell them that their decision not to allow publication of an ad stating that Israel now has women at or near the top of all three branches of government, the judicial, the legislative and the executive, can only mean that Ms. has a distorted, anti-Israel bias.
Write or Call:
Ms. Magazine
433 S. Beverly Drive
Beverly Hills, CA 90212
T: (310) 556-2500
F: (310) 556-2509

Publisher, Eleanor Smeal
1600 Wilson Boulevard, Suite 801
Arlington, VA 22209
703-522-2214
703-522-2219 (fax)