Imagine arriving at school one day and discovering that you have to cross through an elaborate display of mock walls, barbed wire and military checkpoints to get to class. As you get closer, you see pamphlets and posters alleging Israeli 'atrocities' such as 'ethnic cleansing' and 'apartheid,' and graphic displays of Israeli flags emblazoned with swastikas. You try to push past the offensive propaganda when suddenly your see your own face on one of the posters! You realize that hundreds of posters have been plastered around campus with the pictures and names of yourself and your fellow pro-Israel friends, alleging that you have slandered the creators of the display.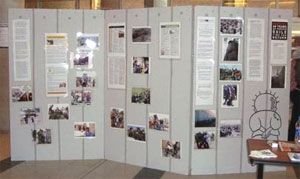 Far-fetched? Welcome to a day in the life of a pro-Israel student at York University in Toronto, Canada.
York is located in northern Toronto, near the thriving Jewish community of Thornhill, and 10% of the student population is Jewish. But being a supporter of Israel at York University is far from easy. In fact, openly identifying as Jewish – wearing a kippah or a Magen David – can involve enduring hostile looks, insulting remarks, and intimidation.
For the past several years there has been a growing movement at York University, often involving members of the student government, to de-legitimize Israel and its supporters. In 2006, an organization called "Students Against Israeli Apartheid" (SAIA) formed with the stated purpose to "raise awareness about...Israeli apartheid - and to raise pressure around the need to sever economic ties between our campuses and the support for Israeli state policies." SAIA has created a hostile and provocative environment by erecting graphic anti-Israel, and sometimes anti-Semitic, displays in the central hall of the York campus almost daily.*
SAIA has enjoyed the open support of the York Federation of Students (YFS), the elected student government. The executive board of the YFS is comprised of five students who are active members of SAIA; SAIA frequently uses official YFS space, resources and funding to produce its propaganda.
Recently, YFS came under criticism for an unrelated issue. York University was shut down from November 2008 – February 2009 due to a teachers strike. YFS supported the teachers in the strike, angering many students who missed three months of school and lost tuition. A coalition of students called "Drop YFS" formed with the goal of garnering 5,000 student signatures needed to impeach the YFS executives. While "Drop YFS" was not created directly in response to YFS condemnation of Israel, many of its most active participants are pro-Israel student members of Hasbara Fellowships (link to www.israelactivism.com) and Hillel who have long been fed up by the disingenuous agenda of the YFS board. The "Drop YFS" movement quickly gained steam, and gathered well above the 5,000 signatures needed in less than two weeks.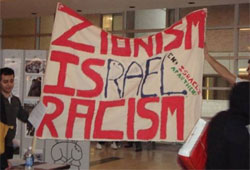 In response, SAIA produced one of the most alarming pieces of propaganda seen on a North American campus, plastering hundreds of posters around campus with the pictures and names of Jewish students involved in "Drop YFS." Below each picture was a 'description' about each student, filled with slanderous lies and hatred.
Despite the extreme intimidation, "Drop YFS" held a press conference in the York student center on February 11 to announce that they had collected the 5,000 signatures necessary for impeachment. Members of SAIA and YFS officials gathered outside the room, shouting and banging on the doors and windows of the conference room. The press conference was essentially shut down.
As the exhausted Jewish students involved made their way upstairs to the Hillel offices, about 100 protestors followed them and barricaded the door, effectively trapping the students inside. The protestors shouted hateful and racist remarks, including "Die b****, go back to Israel", "Die Jew, get the h*** off campus", and a lot worse not fit to print in a family website. York security, unable to control the mob, finally had to call the police. With much difficulty, the police made their way through and escorted the Jewish students off campus. With not even a slap on the wrist, the raging, riotous mob slowly dispersed.
The York University administration has yet to publicly condemn the acts of the rioters, or to take action against YFS and SAIA.
Despite widespread condemnation by Canadian politicians, media, and Jewish organizations, the York University administration has yet to publicly condemn the acts of the rioters, or to take action against YFS and SAIA. YFS has not dissolved and called for new elections, as its by-laws indicate it must, since the receipt of the "Drop YFS" petition. SAIA and YFS have continued to hold virulent anti-Israel protests, filled with racism, slander and profanity on a daily basis in the center of the York campus. At one protest, the police were again called in when a Jewish female was assaulted.
These events are the most extreme example of anti-Israel and anti-Semitic propaganda plaguing North American campuses today. Yet they are not unique – particularly since Israel's Operation Cast Lead to protect the citizens of southern Israel, there has been a sharp increase in protests and guerilla theater across the US and Canada.
Yet what is happening at York is particularly shocking – the violation of free speech, a student government plastering defamatory posters of its dissidents across campus, an increasingly hostile atmosphere for Jewish students – all without a word of response from the university.
At this critical juncture in history, we the students seek the support of all who condemn anti-Semitism and disproportionate anti-Israel blame. Together we can make a difference and take back our campuses.
Contact York officials and raise your voice of concern and complaint:
Office of the President: (416) 736-2100, Mamdouh Shoukri, President and Vice-Chancellor, mshoukri@yorku.ca
Student Community & Leadership Development (SC&LD): (416) 736-5144, Frank Cappadocia, Director, fcapp@yorku.ca, (416)736-2100 x 66158
York University Security Services: 416.736.5333 Ex 33333
(*Note: These displays are meant to draw attention to Israel's security fence. Israel has constructed this fence as a deterrent against terrorism, allowing both Israelis and Palestinians to live in greater peace and security. Since the beginning of its construction, terrorist attacks against Israel have declined by more than 90%, and Israel has been able to reduce its military operations in the territories as well. The fence is largely made of high tech barbed wire surrounded by dirt roads – a small fraction, less that 3% of the total length of the fence, is constructed of concrete – this is in areas where snipers have been able to fire on civilian highways in the past, or where hostile Palestinian neighborhoods are within a few yards of Israeli neighborhoods. Critics of the fence have seized on these small areas to label the fence as a wall that violates human rights.)
Photos by Shira Gilboord