Life had never been better; life had never been worse.
The former I would tell my friends; the latter I wouldn't admit even to myself.
I was 32 years old and climbing rapidly in the world of material success. I owned and operated five successful businesses in upstate New York, and my real-estate ventures seemingly never failed to turn a profit. I lived on a breathtaking ten-acre estate, which was one of my prize buys and which was ideally situated in proximity to my various enterprises. I was a popular guy, had lots of friends, and lots of invitations to party.
The fact that I was Jewish hardly made a blip on my radar. Somewhere in the back of my mind a thought persisted that whenever I decided to marry -- though at the moment, I was nowhere near that decision -- I would only marry a Jewish woman. However, these vague plans for the distant future did not impact my choices on the dating circuit.
If anyone had asked me, I would have said I was very happy, and any stray thought that all was not right with the way I lived my life would be quickly shunted aside by the demands of my busy life. I was working seven days a week, 18 hours a day, and when I wasn't working, I was partying. I got by on a few scant hours of sleep a night, and sometimes I didn't sleep at all.
I was like a wind-up toy going a mile a minute until one day, I fell off the table.
Falling Down
The fall was preceded by a heady time -- I was about to strike it rich as never before.
Two of my businesses -- a pool hall and a video store -- were located in Hyde Park, a busy college town. After seven years, both businesses were so successful they were popping at the seams, and I was ready to expand. By a stroke of unbelievable luck, a prime piece of commercial real-estate directly across the street came on the market, and I managed to buy it for a good price. Then came another stroke of unbelievable luck! A ten-acre piece of land near-by -- which I bought merely as a speculative real-estate investment -- proved to adjoin the commercial parcel. This was an extremely valuable commercial package.
Word got out about my good fortune, and before I even had a chance to draw up architectural plans for my dream building, a real estate agent was knocking on my door with an offer.
Success was patting me on the back and pumping up my ego.
I listened reluctantly and tried to brush it off with: "I didn't buy this land for re-sale. I want to develop my own business here." But the real estate agent persisted. Finally, I said, "All right, everything has a price. If you can get me x" -- and I named a ridiculously high figure – "I'd consider it. But this is not my opening offer; I won't haggle. Truth is I don't want to sell."
Two days later, the real estate agent was back with the magic words: "You've got a deal." It seemed that a wealthy doctor wanted to put up a medical building to house his busy practice. My land package fit his requirements perfectly.
Success was patting me on the back and pumping up my ego. How clever of me to put such a smart deal together and multiply my investment in such a short period of time. The thought that God was involved in any of this never entered my mind. But whether I thought about it or not, God does run the world, and (as I would eventually learn) He had engineered all this as a preface to a wake-up call that was about to shake my world.
Black Monday
It was Monday, August 6. The contract signing for the land parcel was set for the next day at 1 p.m. In anticipation, I had put in a weekend of heavy celebrating, and because I had barely slept for several days, I decided to take it easy on Monday and get a good night's rest for a change. I wanted to be fresh for the signing.
But a series of events conspired against me, and I had to stay around to close the Hyde Park business. I didn't start for home until after 2 a.m. As I revved up my brand new Mitsubishi pick-up truck for the 20-minute ride, I noticed that my gas tank was empty. "Oh no," I groaned. "I don't believe this!" I was dead tired and I couldn't keep my eyes open -- I needed to hit the pillow now, and here was another delay. Fortunately, the gas station did not take me far off course; I filled up and paid the station attendant. That was the last thing I remember. The next thing recorded in my memory banks is waking up -- three days later -- in the hospital.
How had I lost three days?
Apparently, driving home that Monday night, I fell asleep at the wheel and went off the road into a wooded area, where I smashed into a tree. The impact sent me flying out of the side window of the truck. That had happened sometime before 3 a.m.
At 7 a.m. nurses coming to work at a nearby nursing home (which just happened to be a client of my cleaning service, another one of my businesses) noticed the smashed up pick-up and called the police. The police came, surveyed the damage, saw a lot of blood all over the place, but did not find me. They had an easy time determining the ownership of the vehicle as my wallet was still inside, and they called my office. My worker told the police that I had only one car, this Mitsubishi pick-up, and if it was in the woods, then I had to be near-by.
The police went back to the woods, and this time they found me. At 7 a.m. I was gone. At 11 a.m. I was right there.
The doctors told my mother that 20 minutes more, I would have bled to death.
Seeing all the blood, they had searched the site carefully. Yet, the first time around, the body could not be located. On the second try, they found my smashed-up, bleeding self not far from the truck, and they rushed me, unconscious, to the hospital.
It was in the nick of time. Twenty minutes more, the doctors told my mother, and I would have bled to death. It was that close.
The doctors also told my mother that because of the loss of blood, and perhaps loss of oxygen to the brain, if I did wake up from the coma, I might not be the same old me.
A Series of Shocks
When I woke up three days later, I was perfectly normal, remembering everything right up to the accident with perfect clarity. I even remembered some of the aftermath -- I specifically recalled crawling through the woods, (that's why the police didn't find me the first time) seeing blood all over me and thinking that I had been attacked by wild animals.
Then came a series of shocks.
First, the doctor walked in. "Do you know who I am?" he asked.
Looking at his white coat, I said, "You are a doctor. Why are you asking me this?"
"I'm Dr. Stein."
This was the doctor I was supposed to meet on Tuesday at 1 p.m. for the contract signing -- he was the one who was going to buy my commercial land parcel.
He told me that at 11 a.m. on that Tuesday he was inspecting the plot he was about to buy when his beeper went off. There had been an accident, and he was on-call at the hospital. He looked at his watch -- he had two hours to help the victim. But when he arrived, he realized there was no need to rush – this Mendlowitz was in no shape for any contract signing.
The next shock arrived in the person of the real estate agent who had engineered the deal between me and the doctor. The accident had happened right across the street from his office. Had I veered right when I fell asleep at the wheel, I would have gone through the plate-glass window of the real estate office. Instead, I had veered left and ended up smashing into a tree.
Waking Up
I was released from the hospital a short while later with advice to rest and allow my system to recover from the many broken bones and loss of blood.
As my body began slowly to regain its strength, the full reality of what I had just been through began to dawn upon me, and one question reverberated in my muddled brain:
What do I do now?
The answers came when I visited Israel. Here in the land steeped in the history of my ancestors, I slowly found myself. Turning to ancient texts containing timeless wisdom, I found a map to a tried-and-true path, a path well trodden by my people.
And as my life filled with meaning and fulfillment, all I could think of was that the terrible accident which left me laid up and recovering for months. The worst thing that had happened in my life turned out to be the best thing that had happened in my life.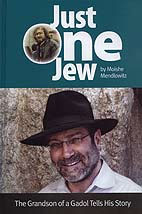 Excerpted from Moishe Mendlowitz's new book, "Just One Jew: The Grandson of a Gadol Tells His Story," Feldheim Publishers. Moishe Mendlowitz is the manager of the renowned Heritage House in the Old City of Jerusalem, where he has lived and worked since 1996. A sought-after speaker on kiruv and off-the-derech issues, Moishe is the founder of the kiruv organization Just One Jew, which serves to help struggling kids re-enter yeshiva and to increase the involvement of religious families in kiruv.